Prime (DVD, 2006)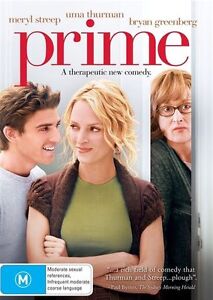 About this product
Product Information
Uma Thurman (Kill Bill: Vols. I and II, Pulp Fiction) stars as Rafi, a 37-year-old photography producer reeling from a recent divorce, who meets David (Bryan Greenberg, televisions One Tree Hill), a 23-year-old painter recently out of college, Prime explores what happens when love at first sight meets the day-to-day realities of an adult relationship. Oscar-winning actor Meryl Streep (The Hours, Adaptation) portrays Rafi's therapist, Dr. Lisa Metzger. Lisa, who is working to help Rafi overcome her fears of intimacy, finds out that Rafi's new lover is unfortunately for Lisa her only son, David. David and Rafi must contend with a 14-year age gap, vastly different backgrounds and the demands of Davids traditional mother. A frank look at a modern, urban romance, this film candidly and humorously explores the joy of falling head over heels for someone and the struggles that inevitably follow. Prime is written and directed by Ben Younger (Boiler Room) and produced by Team Todd, headed by sisters Jennifer Todd and Suzanne Todd. The film is both Team Todd and Youngers follow-up to the 2000 debut feature, Boiler Room, an energetic drama about Wall Street hustlers that starred Giovanni Ribisi and Vin Diesel.
Product Identifiers
APN
9398710430295
Title
Prime
Format
DVD
Product Release Date
23/03/2006
eBay Product ID (ePID)
118550578
Key Feaures
Theatrical Release Year
2005
Number of Discs
1
Actors
Bryan Greenberg, Meryl Streep, Uma Thurman
Directors
Ben Younger
Rating
M
Rating Info
Mature Audiences
Language
English
Run Time
105 minutes
Theatrical Information
Primary Genre
Comedy
Studio
Roadshow
Tag Line
A therapeutic new comedy.