1x Yugioh - Fuse Line - MP18-EN155 - Secret Rare -1st Edition NM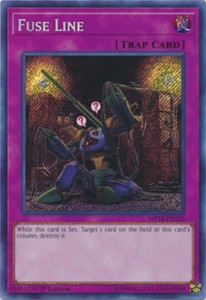 ---
1x Yugioh - Fuse Line - MP18-EN155 - Secret Rare -1st Edition NMFree Shipping New SellerGuaranteed Customer Service

Package

Items will be packed in a letter envelope with a postage/stamp. Only purchases over $20 will include a tracking. 

*If the item title states**

1x: The listing purchase is for 1x that specific card

3x: The listing purchase is for 3x that specific card

 4x: The listing purchase is for 4x that specific card

Shipping

The item will be shipped via USPS, without tracking, which takes 1-8 business days, not including weekends and holidays. Please contact your own local post office for an estimated delivery time. If you do not receive your item within 8 days after it ships, please message the seller.

Handling time is within 3 days, not including the weekends. 

We only ship within the United States. 

Please do not leave a negative feedback because of shipping time as we have no control over it.

As always, please feel free to send me messages if you have any questions. Thank you for your business.

Card Condition Guide 

Near Mint (NM)

Near Mint condition cards show minimal or no wear from play or handling and will have an unmarked surface, crisp corners, and otherwise pristine edges outside of minimal handling. Near Mint condition cards appear "fresh out of the pack," with edges and surfaces virtually free from all flaws.

Lightly Played (LP)

Lightly Played condition cards can have slight border or corner wear, or possibly minor scratches. No major defects are present, and there are less than 4 total flaws on the card. Lightly Played condition foils may have slight fading or indications of wear on the card face.

Moderately Played (MP)

Moderately Played condition cards have moderate wear, or flaws apparent to the naked eye. Moderately Played condition cards can show moderate border wear, mild corner wear, water damage, scratches , creases or fading, light dirt buildup, or any combination of these defects.

Heavily Played (HP)

Heavily Played condition cards exhibit signs of heavy wear. Heavily Played condition cards may include cards that have significant creasing, folding, severe water damage, heavy whitening, heavy border wear, and/or tearing.

Damaged (D)

 Damaged condition cards show obvious tears, bends, or creases that could make the card illegal for tournament play, even when sleeved. Damaged condition cards have massive border wear, possible writing or major inking (ex. white-bordered cards with black-markered front borders), massive corner wear, prevalent scratching, folds, creases or tears.

 Fix Payment

Please pay through PayPal immediately and I will ship your items as soon as possible.

Auction Payment

Please pay through PayPal within 3 days after you've won the auction! If you haven't pay within 3 days an unpaid case will be open.

Return Policy:If for some reason you are unsatisfied with your cards, please contact me to let me know you are returning them for a refund. If I make any mistake I will try my best to fix it as soon as possible. Cards must be returned within 3 days of receipt and in the condition received.